Implantology can replace teeth, but it is not just an aesthetic act. It also helps to restore a certain well-being to patients suffering from the loss of one or more teeth.
Definition of a dental implant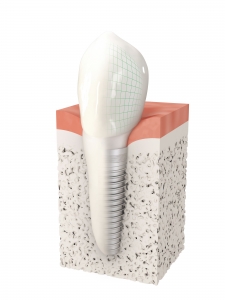 A dental implant is like a small screw, it is an artificial root, it is made of titanium and biocompatible. It serves to replace the root of a damaged or missing tooth and serves as an anchor for a future dental prosthesis or ceramic crown. Whether for one or more missing teeth we will suggest the solution best suited to your case, for an optimal result both aesthetic and reliable.
Why dental implants ?

Implants are a long-term solution that safely replaces one or more teeth without affecting other teeth, making it the best solution for replacing missing teeth :

Implants offer better cosmetic and functional results
---
Implants prevent significant bone melting and facial sagging causing premature aging
---
Implant placement avoids the decay of natural teeth close to edentulousness, contrary to traditional techniques
---
They provide a stable base for new teeth, and allow to talk and eat comfortably safely
---
Implants are an extremely predictable solution, with medium- and long-term studies showing very high rates of success.